12 June, 2019
Making Energy Storage Viable For Mission Critical Sites
Riello UPS and RWE Supply & Trading team up on exciting new project that combines demand side response capabilities with enhanced system resilience.
The new collaboration brings together Riello UPS, the second-largest manufacturer of uninterruptible power supplies in Europe, with RWE, one of the continent's leading energy traders.
It aims to give energy-intensive, mission-critical sites such as data centres the opportunity to capitalise on the growing trend for battery storage without compromising on their overall reliability and availability.
Electricity generation in the UK is in the process of a huge transformation, with old-style plants powered by fossil fuels on the way out. In May 2019, Britain actually went coal-free for more than a fortnight, with renewables such as solar, wind, and tidal playing an increasingly important role.
While this shift to low-carbon delivers significant environmental benefits, it does pose a problem as these green sources are a lot more unpredictable. This, in turn, makes it more difficult for National Grid to balance supply with demand and ensure a stable frequency.
The obvious solution to this challenge is a move away from the traditional centralised method of power generation, transmission, and distribution to a dynamic, decentralised network driven by smart grids, onsite generation, and battery storage, where energy users can also be producers.
Until now, the majority of data centre operators have been slow to embrace this change. Risk-averse by their very nature, they often simply refuse to compromise on their chief priorities of uptime and availability. Using batteries for anything other than emergency backup is seen as an unnecessary risk.
The Master+ Model – Rethinking The Role Of A UPS
The partnership between Riello UPS and RWE promises to end this uncertainty by offering a route into demand side response while at the same time strengthening – rather than undermining – system resilience.
The collaboration focuses on a smart grid-ready UPS that in effect transforms the data centre into a 'virtual power plant'. It is based on a modified version of the Master HE power supply fitted with a special rectifier that enables the bi-directional flow of electricity both from and to the grid.
Alongside this modern, efficient, high-performing UPS is premium battery blocks equipped with RWE's intuitive monitoring and communications systems that enable real-time interaction with the grid and quickly detect any potential issues with the batteries.
These batteries are divided into two elements with very defined roles. The first section's job is purely to provide back up electricity in the event of a power failure. The second 'commercial' element stores electricity that can be fed back into the grid via DSR mechanisms such as Firm Frequency Response or used as a substitute to more expensive, peak-demand power.
If there's a power failure, any remaining energy stored in the commercial battery cells is activated to complement the main backup, a potentially significant increase to overall autonomy.
The concept has been successfully piloted since September 2018 at RWE's global headquarters in Essen, Germany. Based on a site with a 100 kW secured load, the project has already received international recognition having been a finalist in the 'Data Centre for Smart City' category of the international Datacloud Global Awards.
A second pilot plant located in the UK is scheduled to be up and running later in 2019.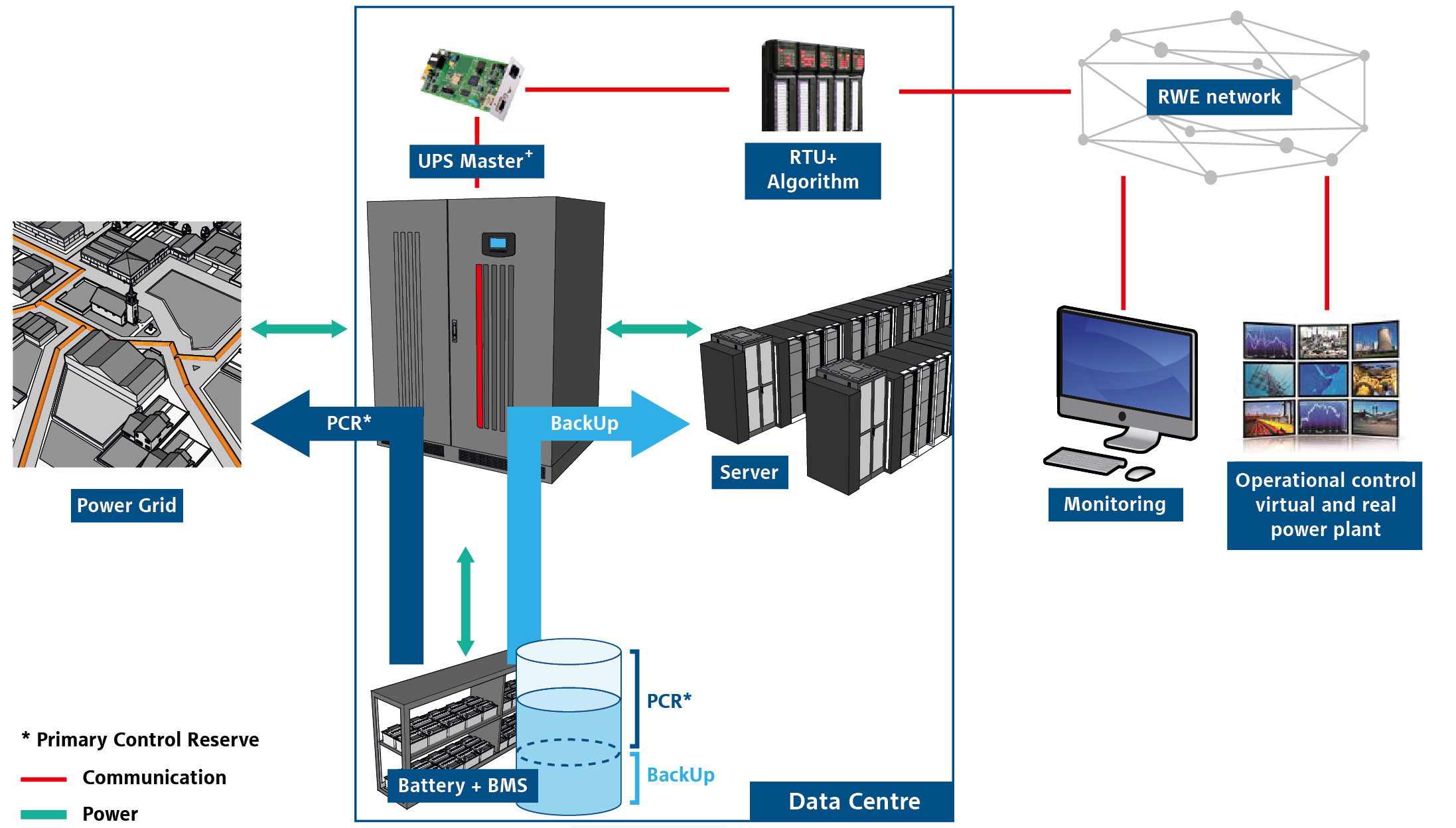 The Benefits For Data Centres
Obviously, premium lead-acid or lithium-ion cells are more expensive than traditional UPS batteries. RWE covers part of the cost of the batteries, significantly reducing the capital cost of buying a new UPS system.
Another advantage compared to a UPS using standard lead-acid is the mandatory monitoring of the Master+ model. Without an expensive battery monitoring system, it is difficult to know for sure whether lead-acid cells will work when called upon.
However, the advanced monitoring of the premium batteries means operators are certain their batteries will kick-in when required – if the analysis highlights any cell weaknesses or issues, the offending batteries can be replaced before they become a problem, greatly enhancing system reliability.
In addition, RWE – rather than the data centre – takes on any risk associated with trading on the energy market. This sees the UPS system tap into the DSR mechanism known as dynamic Firm Frequency Response (FFR). This pays companies that either quickly reduce their consumption or feed back into the network to ensure a grid frequency of 1% within 50Hz.
The Business Case For Data Centre Battery Storage
The following calculations are based on a data centre running a typical 1 MW load with batteries installed to provide 10 minutes backup and 1 MWh of FFR. In addition, operators may be able to save up to £6,000 per MW a year in grid tariffs, depending on the specific project.
| | | |
| --- | --- | --- |
| Initial Capital Costs | Conventional UPS | Riello UPS & RWE Alternative |
| UPS | £190,000 | £190,000 |
| Batteries | £160,000 | £80,000 |
| Installation | £22,000 | £22,000 |
| Commissioning | £3,500 | £3,500 |
| Total | £375,500 | £295,500 |
| Total CAPEX Saving | - | £80,000 (21%) |
| | | |
| --- | --- | --- |
| Operating Costs (Yearly) | Conventional UPS | Riello UPS & RWE Alternative |
| UPS Maintenance | £4,500 | £2,200 |
| Remote Monitoring | £1,500 | £800 |
| Total (per year) | £6,000 | £3,000 |
| Total (10 years) | £60,000 | £30,000 |
| Total OPEX Saving | - | £3,000 per year (50%) |
* Please note all figures are illustrative only and all actual costs and savings are project dependent.
Download this case study for further information about the Master+ model from Riello UPS and RWE Supply & Trading