14 January, 2019
Riello UPS Launches Extended 5 Year Warranty
Riello UPS launches extended 5 year warranty on our entire range of uninterruptible power supplies up to and including 3 kVA.
This extended guarantee as standard is applicable within UK & Ireland on all new purchases made direct from Riello UPS Ltd or one of our authorised reseller partners from 1st January 2019. It is not available retrospectively.
Under this new promise, any manufacturer fault experienced during the first five years from the date of invoice are covered, subject to our standard terms and conditions. This is significantly longer than the typical 2 or 3 year warranties provided by the vast majority of other UPS manufacturers, providing additional peace of mind for both resellers and end-users alike.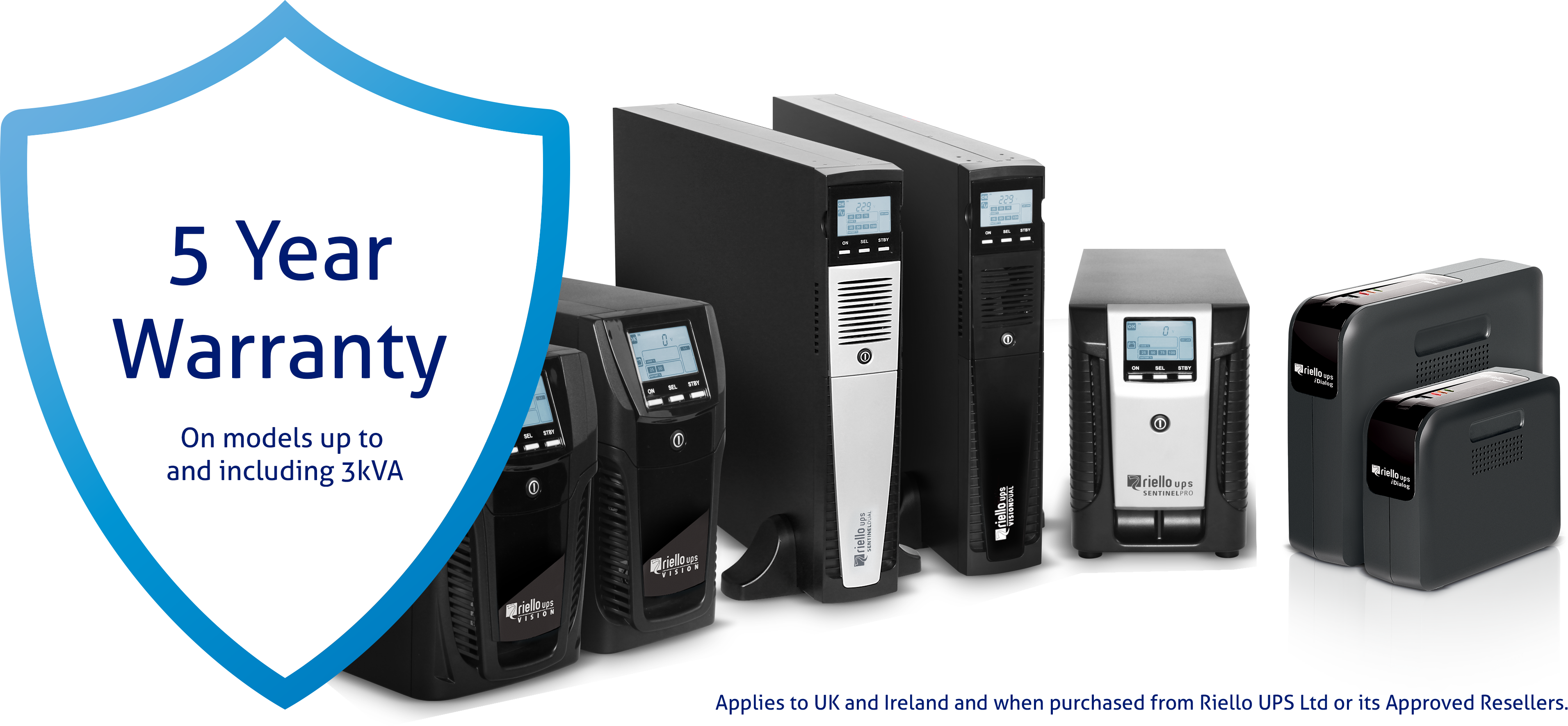 As the extended warranty applies to UPS systems up to and including 3 kVA, it incorporates Riello UPS single phase products including the Sentinel Pro (SEP) and the Sentinel Dual Low Power (SDH).
It also covers our line-interactive UPS Net Power (NPW) and the Vision series (VST, VSD, and VSR) along with our offline / VFD UPS the iPlug and iDialog.
Announcing the 5 year extended warranty, General Manager of Riello UPS Leo Craig commented: "A UPS provides priceless protection against damaging IT downtime, so when a customer buys from us they're placing huge faith that our products are up to such a crucial task.
"Warranties help provide that all-important peace of mind. Extending ours to a full 5 years clearly demonstrates the complete confidence we have in the exceptional reliability and long-lasting performance of our UPS systems. That's because we design and manufacture all the units we stock, giving us ultimate quality control."
This extended 5 year warranty is just the latest evidence of how Riello UPS does things differently and sets new standards for the critical power protection industry:
The first UPS company to promise not only a guaranteed emergency response but a repair within a set timescale too. Our ground-breaking Diamond UPS maintenance contract pledges a 4 hour response with an 8 hour fix
The largest stockholding of UPS and spare parts in the UK. That means customers get their products and replacement parts faster than anywhere else, with next day or even same day delivery available
Hundreds of competent service engineers trained through our dedicated Certified Engineer Programme. All in-house engineers and those from authorised service partners must successfully complete this to ensure they meet the highest standards
Unlike most other UPS suppliers, the cost of any replacement fans is included as standard as part of all UPS maintenance and service agreements.
What Products Are Covered By A Riello UPS 5 Year Warranty?
Online:
Sentinel Pro
Sentinel Dual (Low Power)
Line Interactive:
Net Power
Vision
Vision Rack
Vision Dual
Offline / VFD (Voltage & Frequency Dependant):
iPlug
iDialog [excluding the iDialog Rack version]